Coal Bunker
Safely and securely store your coal.
Available in various sizes.
The Atlas coal bunker is a well-manufactured solution to storing coal for total peace of mind. Investing in a well-made container for your home fuel storage needs is a wise move, with the price of coal reaching record prices. These coal bunkers can also be used for charcoal, coke, wood, briquette and other solid fuel types.
The Atlas coal bunker range is ideal for home fuel requirements with a design and shape that is perfect for the home and garden, with straight vertical sides that can sit against your wall or fence for both a tidy appearance and a practical style that prevents debris and mess. The large upper lid makes filling the coal bunker easy and hassle-free, while the lower opening is user friendly and helps prevent waste.
Our Atlas coal bunker units come in black with two sizes available in 300kg and 600kg capacities, in the following dimensions:
Capacity 300 kg; Length 960mm/38" Width 750mm/30" Height 790mm/31"
Capacity 600 kg; Length 1020mm/40" Width 1290mm/51" Height 870mm/34"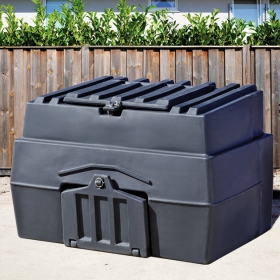 ---