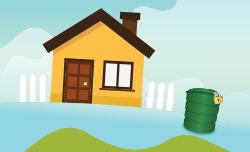 The #WinterReady Guide Part 3
Keeping Your Home Cosy
The 3rd and final part of our the HomeFuels Direct #WinterReady Guide looks at how you can make a few small changes in your home that can lead to a much warmer home, and a cheaper heating oil bill!
Some things may seem simple and you mightn't think they'd have a big impact but when you combine a lot of little changes it can make a big difference!
If you missed Parts 1 or 2 of our #WinterReady Guide you can find them both here: #WinterReady Guide Part 1 & #WinterReady Guide Part 2
Keeping Your Home Warm In Winter
Reduce Drafts Where Possible
Keep Interior Doors Shut
Set Your Heating On A Timer
Our Guide to Keeping Your Home Warm In Winter
Reduce Drafts Where Possible
Draft excluders may seem like something from a time gone by but they're actually an excellent investment, drafts can dramatically reduce the ambient temperature of your home and by simply blocking the gaps between doors and windows you could reduce the amount of heating oil required to heat your home.
If you rarely use your fire you can now purchase inflatable draft excluders for your chimney, but don't forget to remove it before you start the fire again or you could be in for a nasty surprise!
Keep Interior Doors Shut
Even if you exclude drafts from entering your home there can still be internal drafts as different rooms heat up to different temperatures and at different speeds. By simply keeping doors closed you'll find that the rooms where you spend most of your time will stay much warmer.
Set Your Heating On A Timer
It's surprising how many people don't use the timer function on their home heating system correctly. Used appropriately this function can save you a huge amount of fuel. These systems allow you to set on and off time periods for your heating and often allow different settings depending on the day of the week, for example you could have the heating come on at 4pm on week days, ready for you come to home to a warm house.
Consider how long it takes your for your home to heat up and factor that in to your timing schedule.